With the environmentally-friendly drive in full gear these days, it's only proper to ensure that we take that socially responsible mindset with us to bed. Whether we are with a partner or decide to DIY, there are ways to get the job done, and being green at the same time. Here's a little tongue-in-cheek list of tips to get green in bed.
1. Get naked before getting into bed. That way you won't crumple up your clothes or get them messed up. In the first case, you will need to press them which requires electricity. In the second case, you need to wash them, which again requires precious resources. So strip down, and then jump into bed.
2. No condoms. Condoms require testing, processing and resources to make. Some are not even bio-degradable. Just go digging in the beach and you'll find a used condom or three which has been there for eternity. Then disposing them is also not eco-friendly. Some idiots flush them down the toilet which clogs up the drainage and again, requires resources and manhours to clear up.
3. Always swallow. No mess, no cleaning up, just down the whole darn load and let your gut juices do the rest. Besides, it may also help you with healthy skin, and cut down on buying skin products. And, its a nice dessert once you get used to it.
4. Use a body plate. Since we are on the subject of eating, try placing food over your partner's body instead of using a plate which you need to wash. Obviously, no steaming hot food, just regular stuff, fruits, vegetables or a salad. The only utensil you need is your tongue, so lick it clean. Dessert will follow
5. Use eco-friendly toys during your solo intimate sessions.
Edenfantasys
has an impressive range of
eco-friendly adult sex products
to address your every need. There are wooden dildos for instance, solar powered bullets, organic oils and lubes and my favourite, the rechargeable vibrators. The lattermost does away with those pesky batteries. You know what it's like with rechargeable batteries, they never quite deliver the same power as the alkaline ones.
Although they tend to cost a little more than similar type conventional
sex toys
and products, over the long run, they save you quite a bit and keep you on track to be an eco-slut at the same time. Now how great is that?
Missus Singapore out!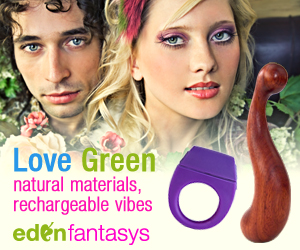 This post was sponsored by Edenfantasys.com.